Heather here!
After a short trip to Japan last year, here is a quick guide I've put together based on my experiences. I will be visiting again this August so this post will probably be added to then!
• WHERE WE VISITED •
Tokyo
How to describe Tokyo? My favourite city in the world (that I have visited so far). Tokyo is a great place to start when visiting Japan; with great restaurants, shops and nightlife as well as some cultural areas too, Tokyo has something for everyone. As you will probably get around the city on the JR lines, it is a good idea to stay nearby one of the stops one of the main lines. We stayed in Shin-Okubo (Tokyo's Korea town) which is on the Yamanote line (the same line as Shibuya, Shinjuku and Harajuku, to name a few). To get out of the hustle and bustle of the city, why not spend the day in the Mt Fuji area (weather-permitting)!
Must do:
Take photos from Tokyo Skytree or the Tokyo Metropolitan Government Office
Cross the world's busiest pedestrian crossing in Shibuya (or sit in Starbucks and people watch)
Stroll around Ginza – Tokyo's premium shopping district
Spend the morning in the Tsukiji Fish Market (Japan's largest fish market)
Visit some temples and shrines (e.g. Meiji Shrine, Tennoji Temple, Sensoji Temple)
People watch in Harajuku
Visit Chidorigafuchi Park in Sakura (Cherry Blossom) season
Experience the nightlife in Shibuya + Shinjuku
Go to Disneyland – suitable for any age 😉
Picnic in Shinjuku Gyoen National Garden
• • • • •
Kyoto
Kyoto is definitely the place to see the historical side of Japan and is slightly quieter than the hustle and bustle of Tokyo. If you're staying in Osaka, you should definitely consider a day-trip to Kyoto as it is only a short train ride away and you can fit a lot of Kyoto in in one day. One place you cannot miss in Kyoto is Fushimi Inari Taisha. This shrine is famous for it's thousands of torii gates which lead up the 233 metre-high Mount Inari. It takes around 3 hours to get to the top and back but after about 40 minutes, you'll reach the Yotsutsuji intersection which has great views over Kyoto. In all honesty, we didn't realise we were climbing a mountain until after this point and after an hour of walking there wasn't really any point in turning around without making it to the top! From experience (the exact opposite of what we did), wear comfortable shoes and walking gear, take plenty of water and snacks and be prepared for a very long walk up a lot of stairs.
• • • • •
Osaka
I would describe Osaka as Japan's answer to Brooklyn. Osaka is a great place to explore modern Japan, the city coming alive at night-time. Also, if you're a foodie, this is the place to be. Osaka is famous for Takoyaki (little fried balls stuffed with octopus – these are usually served in a tray and topped with your choice of toppings), Okonomiyaki (a japanese savoury pancake) and Udon (a noodle dish) to name few.
Top 3 must see:
Namba – Southern Downtown of Osaka
Umeda Sky Building – Skyscraper with observation deck – great for photos of the city
Universal Studios – No explanation needed!
• • • • •
Yokohama + Enoshima Island
If you are spending more than a few days in Tokyo, it's a good idea to go half an hour out and visit Yokohama. Yokohama is Japan's second largest city and is the capital of the Kanazawa Prefecture. Yokohama is popular among expats and has one of the world's largest Chinatowns. For a fun day out, visit the Ramen Museum, Kirin Beer Village, the Science Centre or Sankeien Garden; the city centre is great to see through the day but especially picture-worthy at night time.
We also ventured out a bit and visited Enoshima Island. Just outside of Kamakura, Enoshima is a small island just off the coast of the mainland. If you plan on visiting there too, it's a good idea to get an Enopass which includes admission to the gardens, observation tower and caves. There's also a spa and aquarium too, all perfect for a fun day out!
• TOP TIP: DON'T TIP •
• • • • •
True story. In Japan, tipping anywhere (restaurants, cafes, taxis) is a definite no no and can sometimes be considered rude – the cost of the service is already supposed to be included in the price you pay.
• ACCOMMODATION •
• • • • •
For budget accommodation, check out:
– Airbnb – some great apartments in perfect locations for a much cheaper price than hotels. A major major bonus with airbnb is that these will usually have portable wifi which you charge overnight take out and around town with you – ideal as it's sometimes difficult to find free wifi spots in some areas.
– Capsule Hotels – you have to stay at least one night in one of these if you're visiting Japan – such a weird but cool experience. I'd recommend the 9 hours hotel (in Kyoto or Tokyo)
– Manga Kissa – for extreme budget last minute accommodation, look no further than Manga/ Internet Cafes. These are basically rooms filled with computer cubicles. You pay around 1500 yen for an overnight stay in a private cubicle; this will usually include access to a shower and drinks/ snacks too. Not ideal for your whole stay but definitely another experience you can tick off your bucket list.
• WEATHER •
The temperatures in Japan range a lot throughout the year. The best months to visit weather-wise are April/ May and October (if you're there in April, you may catch the cherry blossoms/ sakura)!
• • • • •
• FOOD – TOP 4•
Japanese food is amazing and was, of course, one of my main reasons for wanting to visit Japan. This is hard to reduce to four, but here are my top foods that you have to try in Japan (please note: for this section I've used stock images because, being the great food-blogger that I am, I wanted to eat the food as soon as it arrived without a five minute photoshoot beforehand… excuses excuses).
Sushi / Onigiri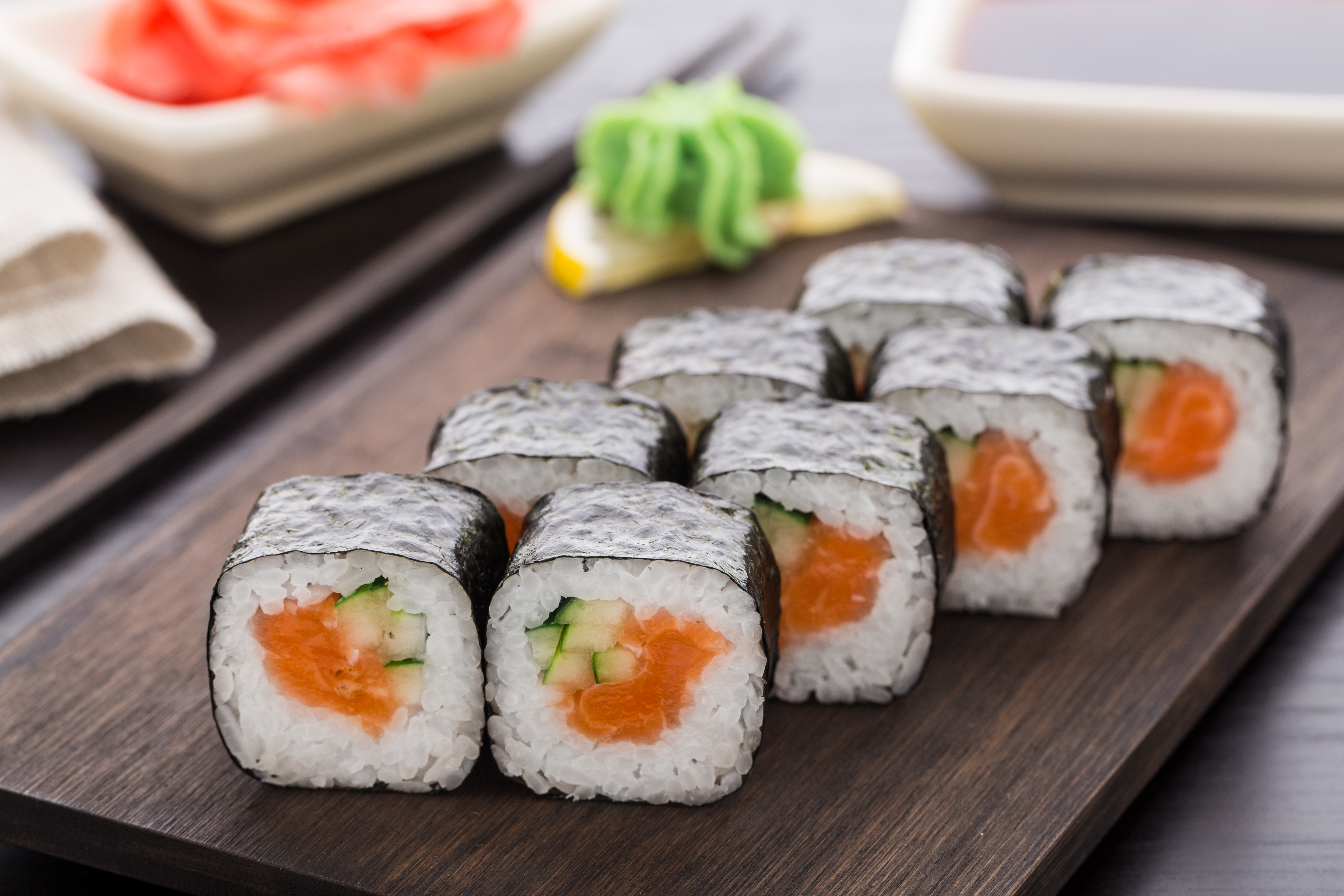 You simply cannot visit Japan without trying the sushi. Top tip if you're on a budget, the sushi and onigiri from the convenience stores is actually so good (and cheap too). If you're in a hurry, try one of the conveyor belt sushi restaurants (think Yo Sushi but 1/6th of the price).
Ramen
Basically noodles in a salty soup broth (my favourite is the miso-based ramen). There are lots of mini ramen shops around Tokyo – some only fit four or five people in at a time but this is where you will find some of the best ramen around so it's worth the wait. At some of the larger Ramen restaurants, you can choose what kind of Ramen you want from a vending machine, pay and get a ticket which you then hand over to the chef – easy peasy!
Okonomiyaki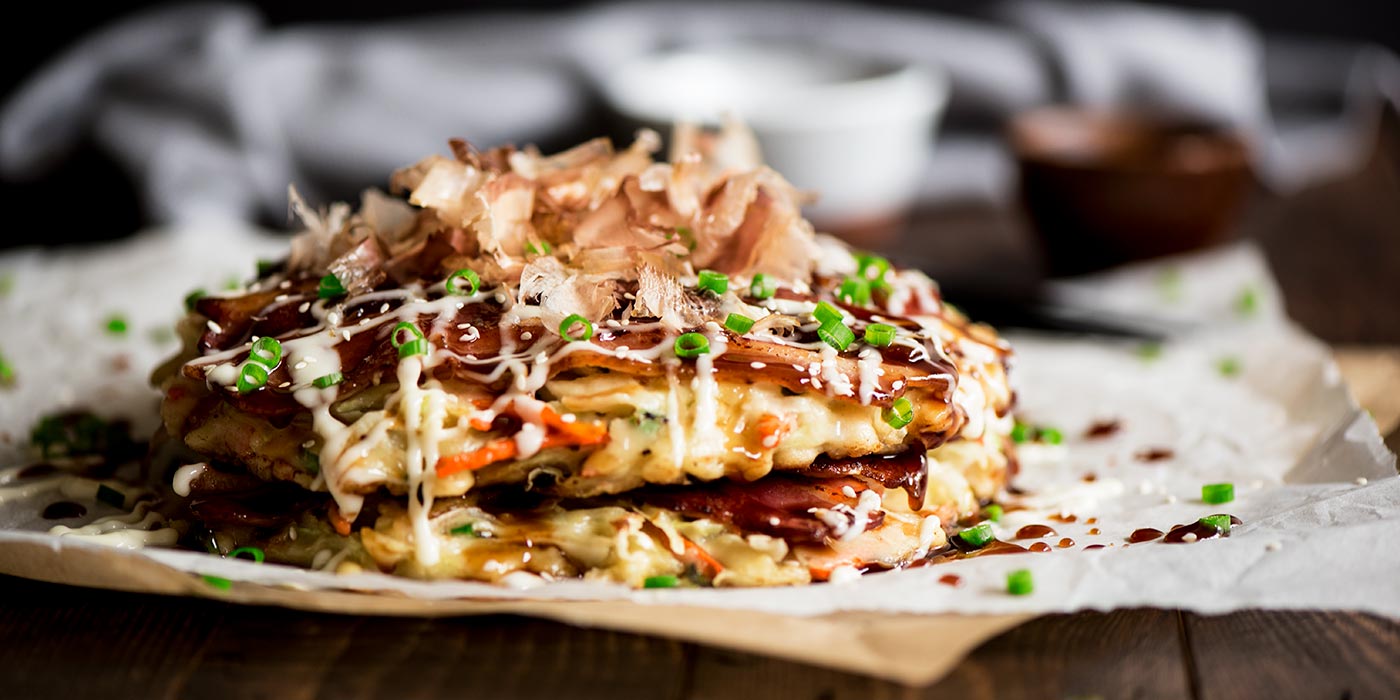 A savoury pancake made of batter and cabbage, filled with a bit of everything then panfried – must try.
Green Tea/ Matcha Everything and Anything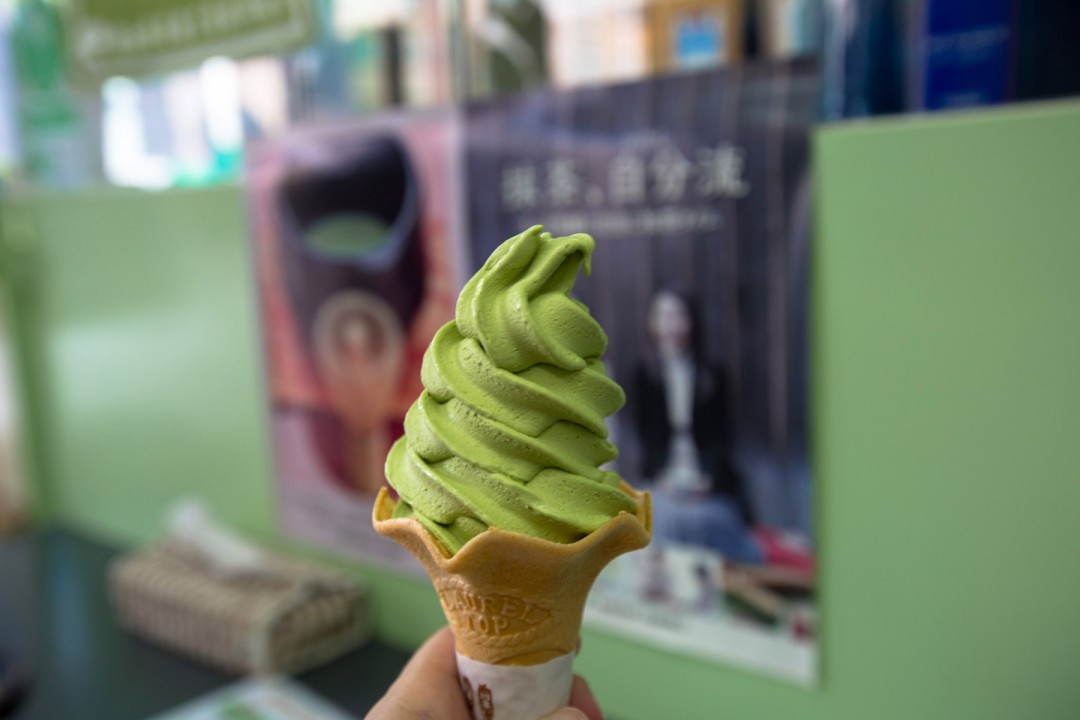 When in Japan, you have to try everything green tea (regardless of whether you like it or not). They have green tea ice cream, green tea yoghurt, green tea frappuccinos, green tea sweets, green tea ice lollies, green tea … tea? You also have to try green tea kit kats (so good).
• TOP PHRASES •
yes/no – はい・いいえ (hai/ i e)
thank you – ありがとうございます (arigatō gozaimasu)
please – ください (kudasai)
how are you? – お元気ですか? (o genki desu ka)
in reply … – はい、元気です。あなたは? (hai, genki desu. anata wa?)
お蔭様で元気です (o kagesama de genki desu)
sorry – ごめんなさい! (gomen nasai)
excuse me – すみません! (sumimasen)
i understand – わかります (wakarimasu)
i don't understand – わかりません (wakarimasen)
my name is – … だ (… da)